Design 'Cat', for gallery 'Inkijk' at the metro-station Wibautstraat.
'White Trophy' installed.
Knock Knock…..Venlo
This weekend I participated in the Art-event Knock Knock…. in Venlo. It was amazing. Thanks Ruda, Lil, Ashwan, Hans, Dennis, Paul and all the visitors. I enjoyed the whole weekend.
My 'Spirits' invaded the attic at Ruda's.
November 'White Trophies' on view at ArtUnit.
Kunstlijn 2014, Haarlem
Philharmonie, Haarlem.
'Peacock'
My special made artpiece 'Peacock' for the Kunstlijn 2014.
'Old sins cast long shadows' at view at the StadsKunstkamer, Cityhall Haarlem
Spirit Mask No.7
Spirit Mask No.6
Newsletter August from Magazine Textiel Plus.
'Spirits & Trophies' prolonged until August 24.
Interview & article by Grytsje Klijnstra, publicized in the Leeuwarder Courant.
'Spirits & Trophies'
'Spirits & Trophies'
'Spirits & Trophies'
Solo show 'Spirits & Trophies'
June14 - August 8.
Chrystl Rijkeboer is known for her extraordinary, unusual material: human hair. In the late nineties, out of curiosity and somewhat by happenstance, she began to experiment with this fragile yet extremely strong and powerful material. Since then she has been spinning hair into threads which she processes into striking artworks.

'Memories', 'Identity' and 'Spirituality', are central to Chrystl's work. Human hair symbolizes deep human emotions. She feels hair is of great importance and the right material to use in her work because it symbolizes these specific human facets of consciousness. Human hair stirs up divergent meanings: a lock of hair evokes the memory of a loved one, a hairstyle becomes an expression of personal identity. Conversely, hair is also used in evil curses, and its forceful removal is a sign of power and domination.

The exhibition 'Spirits & Trophies' shows works that refer to the theme 'Spirituality'. It harks back to a time of primordial humankind and the emergence of consciousness, when humans began to make images and felt that they could derive magical powers from them.
In 'Spirits & Trophies,' frailness, strength and power converge.

Saturday June 21 (14:00 hours) a special one-time-only tour and 'Artist Talk' about the exhibition will be held at the museum. Artist Chrystl Rijkeboer talks about her inspiration. She will also discuss her work process and the works featured in this exhibition.

De Schierstins - Haadstrjitte 1 (Hoofdstraat 1) - Feanwâlden (Veenwouden) - Friesland - NL.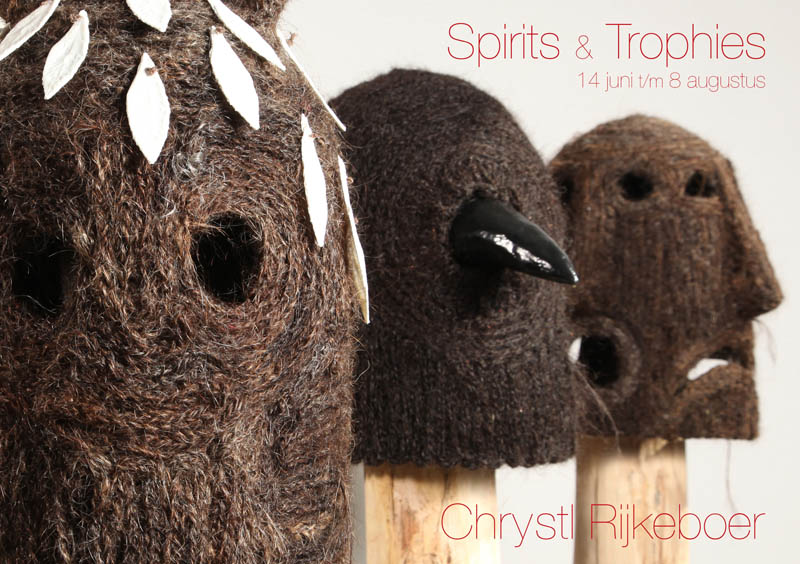 Spirit Masks
Beauty of Violence
Work in progress.
VISAFSLAG
'Home sweet Home XL' (Ceramic, 25x33x28 cm. 2013) is my entry for the 'VISAFSLAG'. Sunday, May 18th at 14:00 it will be auctioned at the Vishal in Haarlem. Viewing days May 10-17 at opening hours.
http://www.devishal.nl/component/content/article/299-visafslag.htm
Previous Page | 5 6 7 8 9 | Next Page page 7 of 22 pages