BREIEN! at the Fries Museum
Oct 18, 2015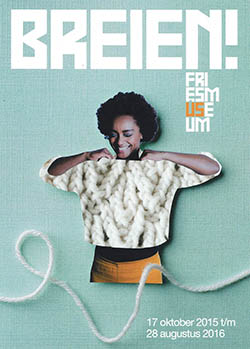 October 17 2015 until August 28 2016.
First 'Super Heroes' ready.
Sep 04, 2015
Working on a new project for the Engelmunduskerk in Oud Velsen.
Aug 16, 2015
Nice article in the NRC about the show 'Under the skin' at the Textiel Museum Tilburg.
Aug 06, 2015
'Under the Skin', Textiel Museum in Tilburg.
Jun 08, 2015
'Old sins cast long shadows' on view from Mai 30 until September 20, during the exhibition 'Under the Skin' at the Textiel Museum in Tilburg.
Assembly 2015.
Jun 02, 2015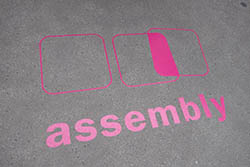 'Hair-spinning performance' at Assembly 2015 in Graz, Austria. Working together with Graz based hair-couture artist Gunter Steininger.
15 Years Gallery HelpUZelven.
May 18, 2015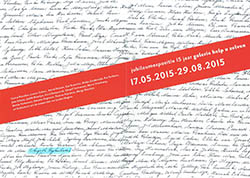 'Dinah', gallery Inkijk at the metrostation Wibautstraat in Amsterdam.
Mar 01, 2015
Metro Station Wibautstraat , Amsterdam from March 1- May 1
'Dinah' is a big white catshead crochet special for this the black exhibition space. She should bring some homey-feeling in this cold- and anonymous metrohal and is inspired on the Cheshire-Cat which Alice encounters on her journey underground in 'Alice in Wonderland'.

" Would you tell me, please, which way I ought to go from here?"
"That depends a good deal on where you want to get to," said the Cat.
"I don't much care where", said Alice.
"Then it doesn't matter which way you go," said the Cat.
Lewis Carroll.


'Dinah'
Feb 17, 2015
The big cat-head 'Dinah' is ready for exhibition.
Design 'Cat', for gallery 'Inkijk' at the metro-station Wibautstraat.
Feb 01, 2015
Previous Page | 4 5 6 7 8 | Next Page page 6 of 38 pages