J.R.Goldmember
Jan 12, 2019
Chryssie doesn't like Xmas
Dec 20, 2018
Go east Mr.T
Dec 12, 2018
Kunstlijn 2018, Haarlem
Nov 02, 2018
Glasrijk Tubbergen 2018
Oct 03, 2018
'Black birds' & 'White bird don't cry'
New work 'Duckface'.
Sep 24, 2018
The White Curtain'
Aug 24, 2018
Art show 'The White Curtain' to be seen in the Vishal. Horror Vacui? Afraid of the emptiness? As a visitor, be curator and create your own exhibition in the Vishal!
August 11- September 9

Lucky Cat Las Vegas
Dec 28, 2017
New ceramic work.
Vishal, Haarlem.
Nov 04, 2017
My work 'Sad,...so sad!
Grensloos Kunst Verkennen
Sep 05, 2017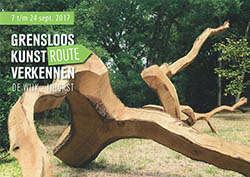 Art route from September 7 until September 24. My work is on show at the church in IJhorst.
Previous Page | 1 2 3 4 5 | Next Page page 3 of 39 pages